Post by Alchemical Interactive on Jul 27, 2018 12:07:43 GMT
Version 0.16 Update
Realm of Rulers 0.16 update brings a new town storage system, reworked graphics options system, new wildlife system, major CPU thread optimisations, reworked LOD for foliage and buildings, quality of life features and various bug fixes and polish!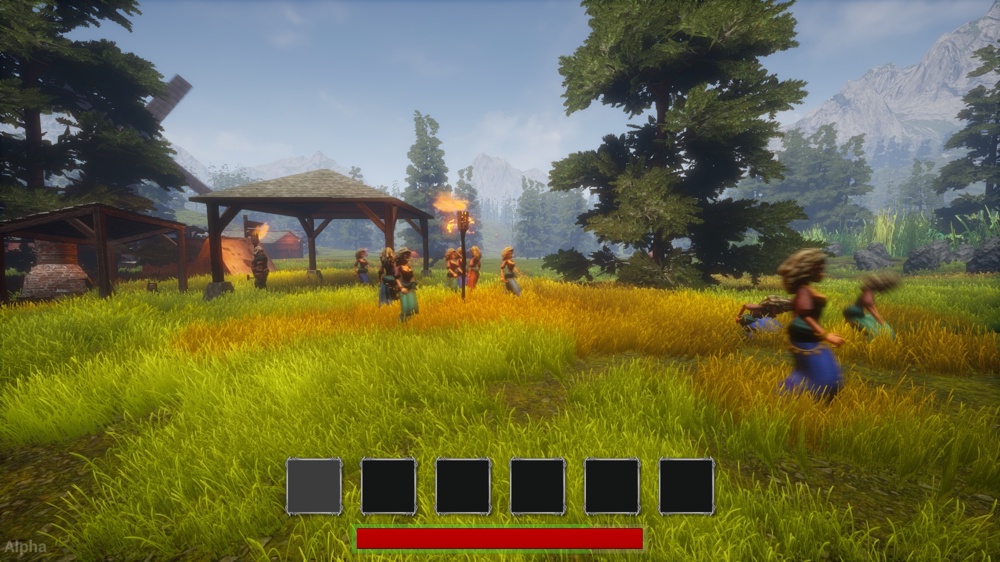 Inventory System Overhaul
Separating the players inventory from the town storage was a much needed addition to the game. As we now have many different citizen types that interact with each other cluttering your precious inventory space we have expanded this new storage which improves QOL greatly.
Now in 0.16 your citizens deposit their resources into your town storage which is accessible from your town settlement. This opens up an interface with a large amount of slots from which you can drag and drop between inventory and storage.

All of your existing saves files work with this new inventory system and your items will be in the settlement chest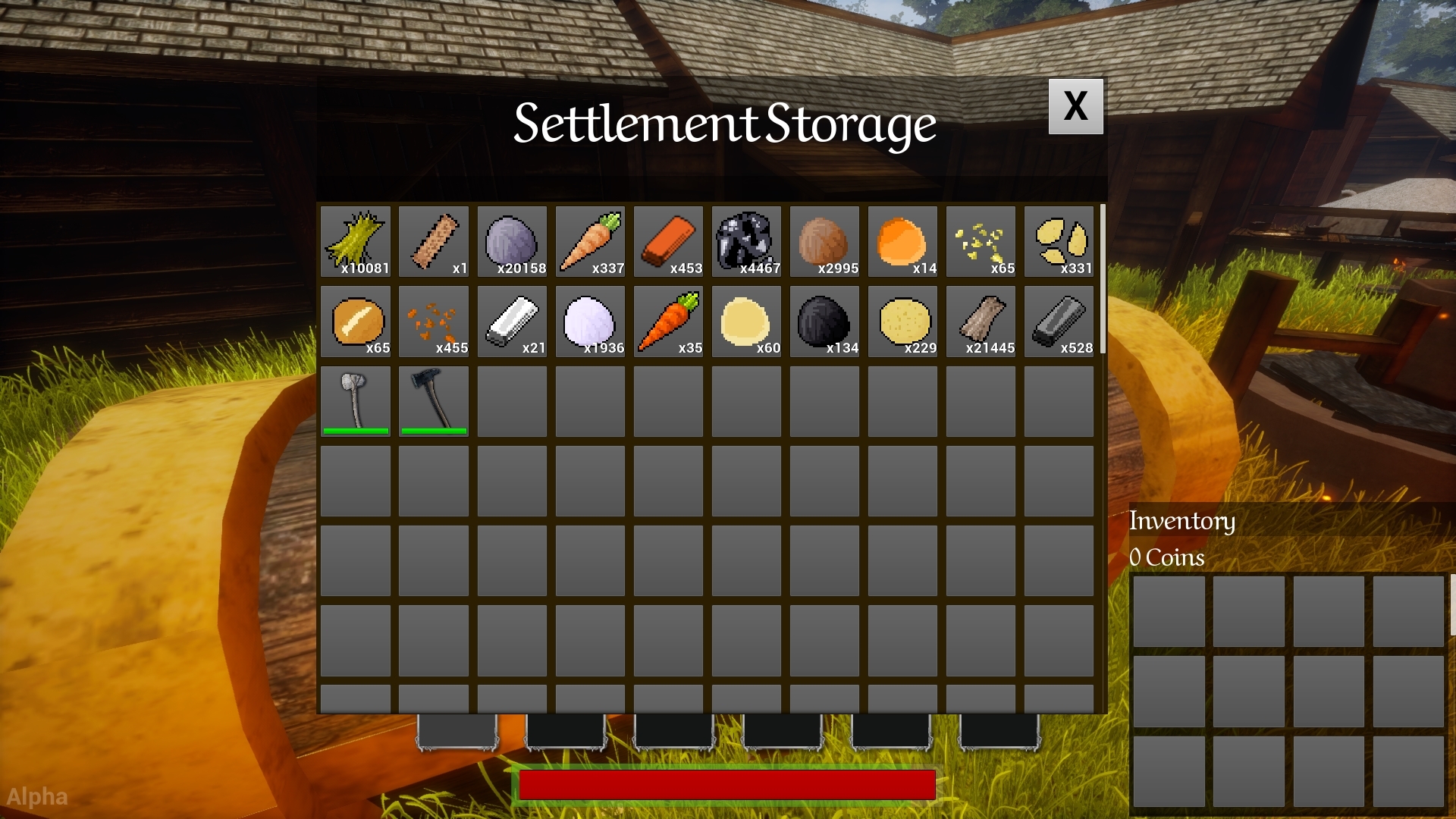 Wildlife System
To improve the life and feeling of the game world world we have implemented a system to populate it with AI animals that will roam and interact with each other and your citizens.
If you have any gameplay ideas for the wildlife system let us know here on gamejolt or here on the forums.
If you have any other suggestions or fixes that you think would help the game make a new thread here on our forum.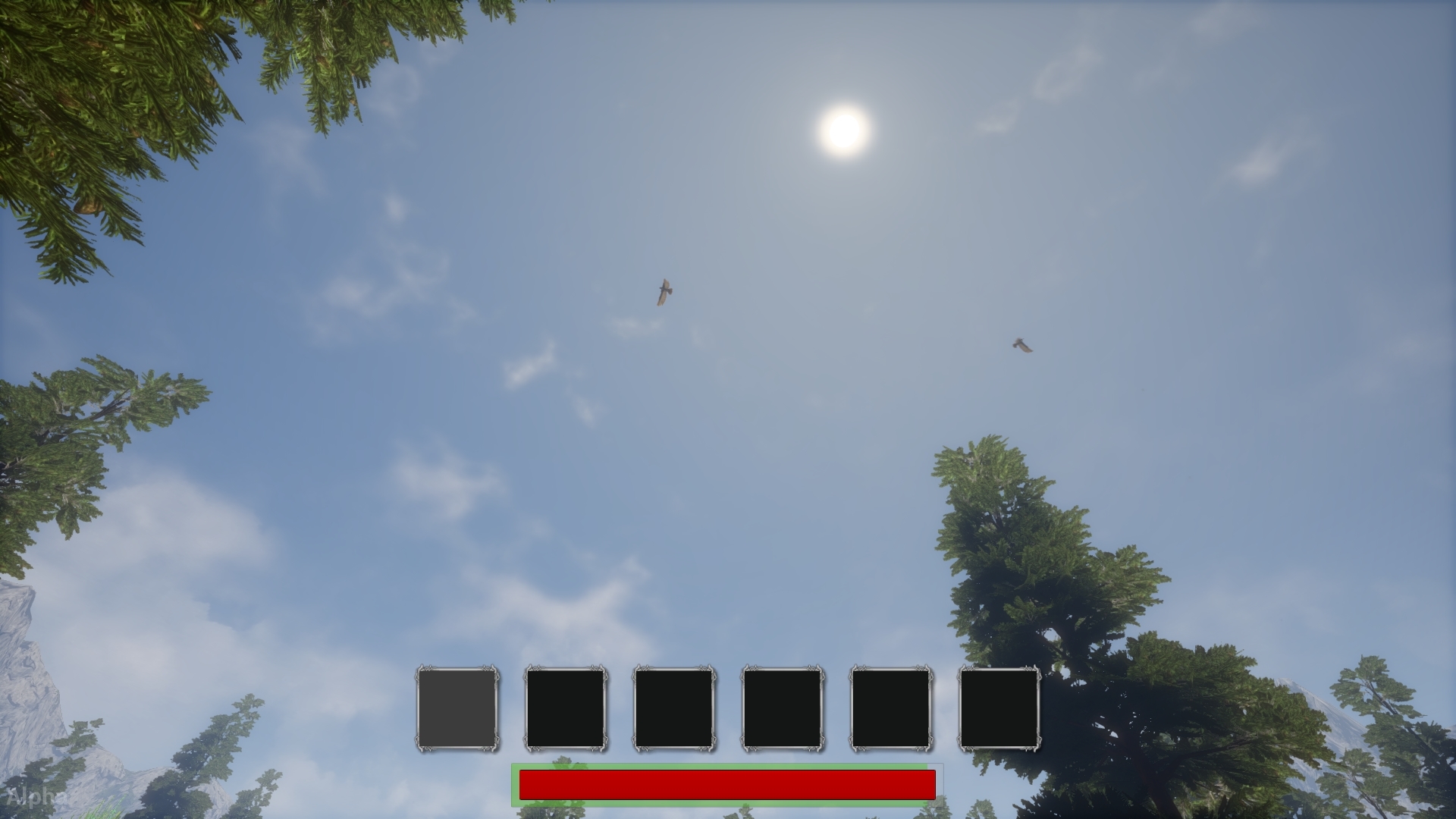 Other tweaks and changes
We spent a very long time trying to improve the user experience with major per frame game thread optimisation and QOL additions that the discord server suggested such as INI files for the graphics system and a mouse sensitivity slider.
If you have any suggestions or bug reports write a comment on our gamejolt page or [make a thread on our forums.](http://realmofrulers.boards.net/)
Want to Support Us?
Follow us on Twitter @alchinteractive or check out our Patreon page
patreon.com/alchemicalinteractive
. We currently run and develop Realm of Rulers out of our own pockets and make the game for fun. If you want to support the development think about
becoming a patron.
Changelog:
- Refactored all old buildings into the new build system
- Reworked entire graphics system to use INI file format
- Added mouse sensitivity slider
- Added building transparency when in build mode
- Fixed scroll wheel not change hotbar items when interacting with inventory UI
- Fixed Esc key not closing town hall management interface
- Added town hall storage system
- Added player isolated storage system
- Fixed duplicate wood working station in build menu
- Added Billboard trees for draw optimisation
- Increased Maximum FOV to 110
- Implemented auto benchmark for graphics settings
- Fixed saved FOV not showing on the main menu
- Added new Wild Animal AI system
- Added new Wild Rabbit
- Added new wild Eagle
- Added new Wild Deer
- Optimised shadow performance in forest areas
- Optimised interface update performance
- Fixed depreciated ai nodes in guard AI
- Fixed input lock when loading a save after not picking up the starting chest items Reported by Twinkky NTS Gaming
- Fixed default fov being set to 0 in some cases
- Optimised inventory slot update code
- Added three new gatherer citizen clothing variations
- Fixed hotbar highlighting two slots
- Adjusted Blacksmith building AI null zones
- Added True Fullscreen Borderless Mode
- Added true fullscreen mode
- Optimised geometry in world towns and cities
- Adjusted DPI scaling for smaller 4:3 displays
- Added more resources around the starting area
- Tweaked AI exclusion zones to prevent citizens pathing incorrectly
- Starting chest now gives two stone pickaxes
Thanks for reading our devlog!
Thank you to all players who test and give feedback! It is invaluable and helps us greatly. We hope you enjoy Realm of Rulers!